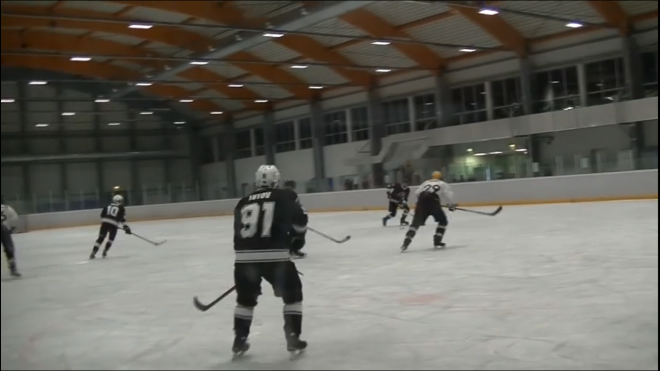 Puckers end 2016 with a win
Before heading into the Christmas and year-end break, the Puckers hosted Strasbourg 2 for the final game of the year and won by a score of 14-2.

After the home and away win/loss against the Strasbourg 1 team, there was an element of desire for revenge against the B team, but as hockey is a gentlemen's sport and the Puckers are true examples of fair and gentlemanly players, the goal was not to run up the score and rout the friendly team from Alsace. In fact, leading scorer Nick Aubin very fairly left his spot for other players on the roster who did not get a chance to play against the stronger pool teams like Strasbourg 1 and Epinal. Perennial goal getter Mike Mekhaeel was also not on the roster, as weren't defensemen Alban Menguelti and Ainars Freimanis. Defenseman David Jozek left his place on the roster to volunteer for the off-ice work for which we struggle to find people.



However, it only took 21 seconds before Jonathan Laforge opened the scoring on a pass from Patrick Ahlstrand. Ahlstrand, the Aubin replacement on the line with Laforge and captain Yves Barthels did well on the line that would end up scoring 7 of the 14 goals. Three more goals would be scored in the first period. Barthels one-timed the pass from Laforge from behind the net for the 2-0, then Laforge added his second from Ahlstrand. Miikka Heinonen also scored on passes from Niclas Lundberg and Frederic Leduc just before the end of the period.



The second period saw 5 more goals scored. Laforge completed the hattrick on a deke going fivehole after taking the stretch pass from Barthels at the blue line. Momo Lutov scored a couple, one of which on the powerplay. The captain scored his second of the night on yet another pass from Laforge and finally Bohus Kostohryz took the feed from Laforge for his second goal of the season.



In the final period, goalie Federico "Luigi" Ferrari finally also saw some action in his season debut, but allowed 2 goals from Strasbourg 2. But 5 additional goals by the Puckers sealed the easy win before the teams would head out to have a meal together. Lutov scored just a minute into the period. Then Arnaud Guillard would score his first Puckers goal on a feed from Vladimirs Lutovs. Ahlstrand would finally also get his goal on passes from both his linemates, Heinonen scored his second of the night and Lutov completed his hattrick for the final score of 14-2.



The hard hat was passed to Guillard for scoring his first goal, but Laforge had a great night with 7 points (3 goals, 4 assists).



The next home game will be against Besancon on January 14.



Happy holidays to all that follow Puckers Nation.