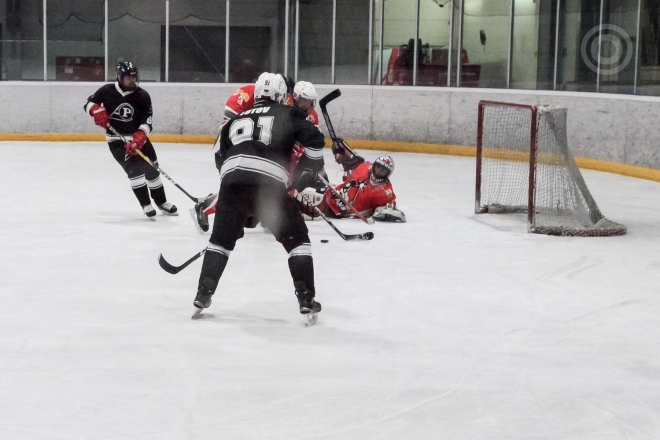 Lutov ready to score
Puckers cruise to easy win in final game of the regular season
The Puckers hosted Colmar on Saturday for their last home and regular season game. With the championship freshly won the weekend before, there was little to play for against the weakest team in the league.

The Colmar guests very generously offered a box of wine bottles before the start of the game for which there is a deep expression of gratitude.



The goal horn rang early in the game, on the second shift when Miikka Heinonen tapped home the rebound off a shot from Yves Barthels. Even though, the game plan was to relax and have fun, there was no doubt the score would be bruising. Mladen Lutov connected on a pass from Charles Vallee just minutes later and two more goals would seal an easy 4-0 first period lead for the Puckers. Patrick Ahlstrand scored his first of four goals in the game while Niclas Lundberg took the face-off win feed from Mike Mekhaeel to put it top shelf just before the break.



The second period ended with the same result: 4 goals after dominant play in the Colmar end. The black line around Lutov, Vallée and Mekhaeel connected on all 4 goals with Lutov and Mekhaeel tallying one goal each and Vallée finding the back of the net twice. Mekhaeel's goal was another beauty of a one-timer on a give and go with Lutov.



The floodgates opened in the third period before the team decided to not embarrass their friendly and tired guests and slowed down in the second half. But just before that, Vallée completed his hattrick and a flurry of goals – 5 goals in 74 seconds of playing time! – led to a score of 14-0 within the first 45 minutes of the game. Lutov completed his hattrick with two additional goals before Nick Aubin found back his "backhand groove" and tallied two. The last three goals were a natural hattrick by Ahlstrand. Too many goals to list them in detail, all on beautiful combinations by a clearly more skilled team.



Thierry Van der Kallen's shutout bid ended with 2 seconds left in the game when a Colmar player was left all alone in the slot to tap home to honorary goal.



Hard hat for most outstanding player went to Mike Mekhaeel not only for his 5 points in the game, but also for his breakaway chance with a wrong-sided stick that he almost put away.



Next up are the semi-finals. The opponents are yet to be determined as other divisions have not finished regular season play yet.