Puckers Luxembourg start the year at the top of the standings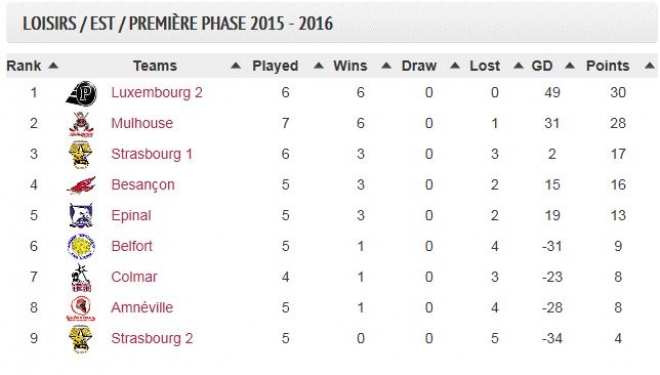 It's been a great start to the 2015/2016 season for the Puckers with 6 straight wins in 6 games in 2015.
The squad from Luxembourg has dominated the French Trophée Loisir Zone Est pool and has at this point already qualified for the playoffs which will start in February or March.
The goal differential of 49 (58 goals for, 9 goals against) is unparalleled in the league and only Mulhouse has managed to stay close to the Puckers in the point standings.
With strong goaltending from Federico Ferrari and Thierry Van der Kallen and an excellent scoring line around centerman Momo Lutov and wingers Charles Vallée and David Donzel who combine for almost half of the team's points and more than half of its goals (61 points and 28 goals) while displaying an unbelievable +84 rating, the Puckers aim to continue in 2016 and finish the regular season with a perfect record in their remaining two games against Besançon (away - Jan 30) and Strasbourg 1 (home - Feb 13).
The additions of Nick Aubin (10 goals and 15 points in 4 games) and Miikka Heinonen (5 goals and 3 assists) have also improved the team compared to last season and the Puckers are looking forward to battling for a spot in the Finals of the Trophée Loisir 2016.
Melde dich anhand eines sozialen Netzwerkes an:
oder erstelle ein neues Konto hier:
oder
Du hast schon ein Konto? Melde dich hier an: